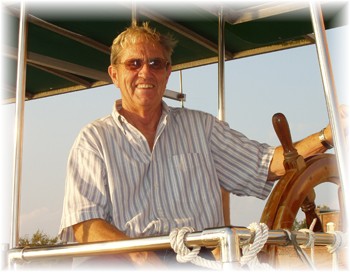 The love of boats, ships and the sea sent Merritt off to the Navy, NOAA and other shipping interests after graduating from college.
His stints of duty were diverse. Deep sea diving officer, deck officer and, eventually, ship captain.
During the course of the sea going part of his career, Merritt served aboard a salvage ship, sea going tug, tanker, oceanographic, hydrographic and fisheries research ships, a container/break bulk ship and the famous NOAA wreck hunters Rude and Heck.
Merritt's natural luck got him sent back to school for graduate studies, and then was called ashore by NOAA to be the first Fleet Inspection Officer. He then went on to Chief of Marine engineering and ship construction.
Sailing schooners are his true love. He founded Rover Marine Inc. in 1978 specializing in USCG inspected passenger schooners. More working schooners of his design are paying their own way than from the board of any other designer in the world.
Where is he now? Alive and well, living in Florida with his wife, faithful cat. We hope you enjoy his work.